El Laberinto Canyon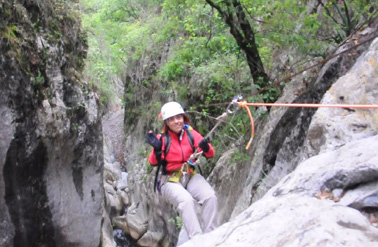 Facts:
Car approach: 15.1 km. on paved road
Hike in: 0.1 km.
Hike out: 0.3 km.
Hike duration (including the canyon): 1.5 h.
Date: 04/18/2010
Gear: 2 x 60m ropes.

Download the GPS file
Download the Waypoints file
El Laberinto is a very accessible and short canyon with two rappels and a final zip line. One discouraging factor for doing this one is the quantity of trash along the canyon. The zip line at the end is fun though. We did El Laberinto as part of the activities during the 2010 Rendez-vous organized by the Mexican branch of the ACA.
Approach:
From the Hotel Hacienda Cola de Caballo, follow the paved road NL-20 uphill for 6.6 km to the Puerto Genovevo pass (WP PtoGenovevo). Keep on this road till the pass before the small village Ciénaga González (LBCar) at 15.1 km. from the Hotel. This is the drop-in point. Unload your gear and group here and take the second car 900 m. farther till the exit of a cabin community on the right (LBCarReturn). From the drop-in, walk a few meters towards the Hotel and take the trail appearing to your left.
Description of the canyon:
The anchor for the first rappel (30 m.) is around a tree on the left. You can bypass this one by walking on the same trail down to the river bed. Once at the bottom, hike towards the second car. Short after, you will find the second rappel (7 m.). The steel cable installed for the zip line avoids the stiking pool below.
Hike out:
Follow the river bed, cross the cabins property and hit the road where the second car is.
© 2014 Explore Pangea. All Rights Reserved. Website
Terms of Use.