Coyote Buttes South
Facts:
Distance: 3.0 miles
Elevation gain: 500 ft.
Total descent: 500 ft.
Duration: 4:30 h.
Date: 4/1/2012
Description of the route: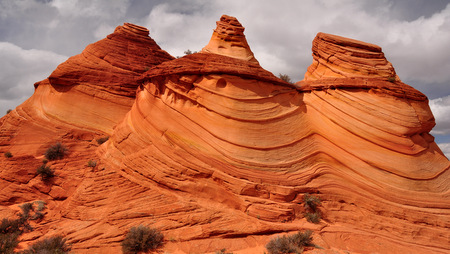 This hike is not in the section where the world famous Wave is (Coyote Buttes North) but the teepees and the other rock formations of the Coyote Buttes South are as spectacular and amazing as the cousins of the northern section, including wavy shapes. Similarly to The Wave, you need a permit to hike this area (see the left panel).

This hike starts at the PawHole trail head. To get there, drive west of Page on Road 89 for about 35 miles and take the Rock House Valley road at a sharp right bend. After 16.5 mi, go East on road 1079 and past a lone tree. After another 1.3 miles take a left. For this last stretch you need a high clearance and 4WD vehicle, due to the deep sand. 1.2 more miles and you'll get to the trail head. Park your car and start walking towards the teepees.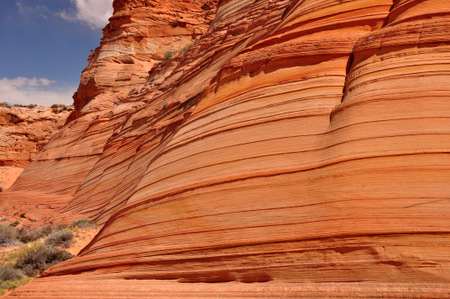 The obvious trail that will lead you to the first formations vanishes right there. There are no marked trails. Probably part of the reason is the sandy terrain. Hiking this area is like walking in the beach or climbing sand dunes up and down. Pretty much you choose your own path and wander from teepee to teepee. The first cluster is just 0.1 mi from the trail head. We wandered around inside the fenced area. From there we stepped out of the fence and headed to the next area of interest leaving the teepees on our right hand side. 0.4 miles away is a second group of teepees.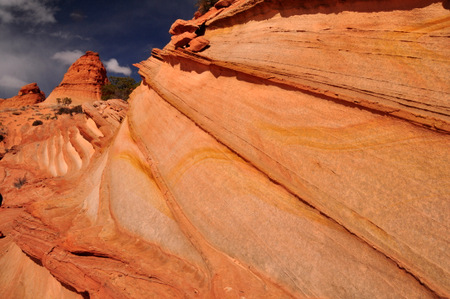 Then we climbed a steep slick rock wall to access some wonderful wavy formations between the smooth pyramids. We followed the colorful waves going through the pinkish sand dunes. The last cluster of teepees is reached after crossing an open area. This group is broken by gullies and contains twisted formations that defy any logical explanation.

For the path back to the car we went around the 3 groups on the East side, crossing the fence and going in between the teepees closest to the car.
Back on the Rock House Valley road, take a left to go back to Page on the 89 Alt. Still on the dirt road, stop at the condor viewing station to test your luck with finding the birds. Road 89Alt has a number of attractions: Dwelling Cliff, Marble Canyon and a nice sunset on the range you'll drive across.


© 2014 Explore Pangea. All Rights Reserved. Website
Terms of Use.