Wahweap Hoodoos
Facts:
Distance: 8.6 miles
Elevation gain: 300 ft.
Total descent: 300 ft.
Duration: 4 h.
Date: 3/31/2012
Description of the route: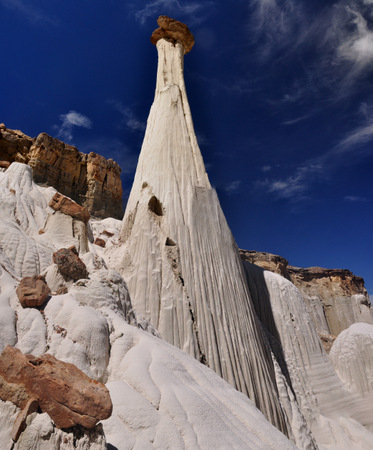 This easy hike takes you to 4 areas where beautiful hoodoos concentrate. From the 4 groups, the most outstanding one is the Towers of Silence, also known as White Ghosts. These are white compacted sand pillars topped with a dark brown flat rock. The slim silhouette against the blue sky is quite a view.

The trail is located a few miles East of Page (Arizona). Coming from Page, turn right to enter the small village of Big Water (between mile markers 7 and 8). Cross the village through the Ethan Allen Rd and turn left at the T, once outside of Big Water. Follow the maintained wide dirt road and drive down towards the wash. Pass the 2 fish hatcheries and the small corral. If the Wahweap Creek is low or if you have a 4WD, cross it and continue till the trail head sign. Otherwise park before crossing the stream and walk to the trail head sign.

Once at the trail head, drop to the wash and follow it upstream (North). After 0.3 miles cross the fence through the door on the true left of the wash and continue on. The trail follows the sand and pebble wash for 3.6 miles (from the fence) until you arrive at the firsts hoodoos. The hike on the wash is far from exciting but the reward at the end is worth it. All four groups of hoodoos are to your left as you walk upstream. The first one, known as Hoodoo Central displays a 75 feet tall tower and several other smaller ones. The second group is at the end of a valley and is composed by a couple dozen hoodoos homogenous in height. The third and most amazing one is the White Ghosts. As spectacular as these hoodoos are the cascading white sand formations coming done the hill in the same area. We climbed up to the fourth group on the way back.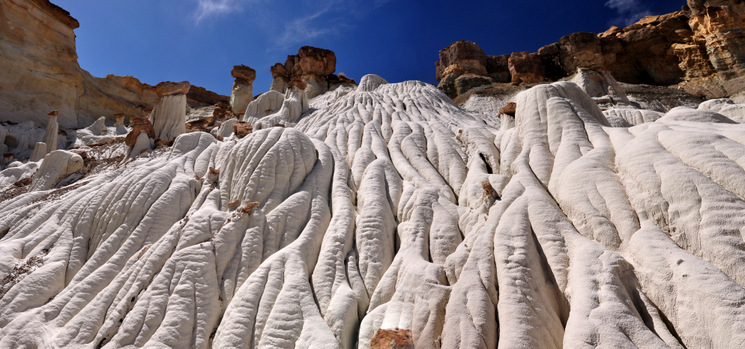 Return to the car backtracking your footsteps. All the hoodoos are best appreciated in the morning since they are facing East and have cliffs on their West side. Make sure you carry plenty of water and use sunblock. Spring and autumn are the best times to enjoy this hike.
Go to top
© 2014 Explore Pangea. All Rights Reserved. Website
Terms of Use.