Painted Rock Loop
Facts:
Distance: 17.6 miles
Elevation gain: 2000 ft.
Total descent: 2000 ft.
Duration: 5:10 h.
Date: 5/25/2014
The Tahoe Rim Trail (TRT) is composed by different trails that can be connected. These trails are mainly single tracks, with beautiful views over Lake Tahoe and very well maintained. However, for a single day ride, they have a problem: if you don't have a shuttle, expect a fairly hard day. Nevertheless, there are a few loops that don't require shuttle. One of them is the Painted Rock trail.
This route is near these other routes:

Spooner Summit to Heavenly Trail
Flume Trail

Description of the route:
It starts and ends at Tahoe City. We rode the 17.6 miles in the counter clock direction but it can be done in the other direction as well. My front brake was not working that morning and we had to take the bike to a bike shop to fix it. Fortunately for us, there was a bike shop (Olympic Bike) open on Sunday in Tahoe City. They were busy so we had to leave my bike and rent one from them. It was a good excuse to rent a full sussy :)


Park your vehicle somewhere and start riding North on the bike path parallel to the road, between the road and the lake. After 2.2 miles leave the bike path and cross the road. Follow Fabian St. and turn right at Village Rd. Then left at Country Club. The single track starts at the end of the street (mile 2.9).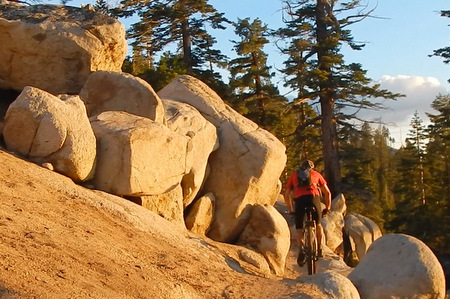 Bear left and head towards the Dollar Dam (mile 3.1). You can cross over the dam carefully or go around it. At mile 5 turn right and begin a brutal climb on a single track for about 0.4 miles. We had to push on some stretches. After that, you will join the remnants of a flat road. At mile 7.3 take a sharp left and enjoy the downhill switchbacks on this section of the TRT.

At around mile 12, you'll reach a pile of volcanic rocks. That's the end of the climb. From here is all the way down to Tahoe City on a nice single track . At mile 13.5, enjoy the views of the Trukee River from atop the Thunder Cliff. The rafters are tiny from up here. Keep riding down for 3 more miles and then one last mile on pavement. You're back in Tahoe City.


Painted Rock profile.
Go to top