Winter's Alta (or Skier's Alta) Peak
Facts: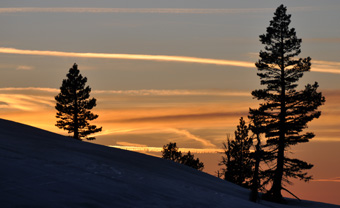 Distance: 3.6 miles
Altitude at starting point: 9200 ft.
Altitude at destination point: 11320 ft.
Elevation gain: 2200 ft.
Total descent: 2200 ft.
Duration: 5 h.
Date: 04/05/2009
Gear: Alpine touring

Download the GPS file
Download the Waypoints file
This route starts at the Pear Lake ski Hut, goes around the Matterhorn peak behind the Hut and summits the Winter's Alta (aka Skier's Alta Peak). The slope to get to the Winter's Alta ridge is North facing so make sure the snow conditions are good to enjoy it. This out and back route can be done as an additional day to the Pear Lake ski Hut activity (LINK).
The views from the summit are awesome; the real Alta Peak and all the peaks forming the Pear Lake cirque, the wide views towards the south of the park... You can also see the scary sharp ridge to get to the Alta Peak.
Description of the route: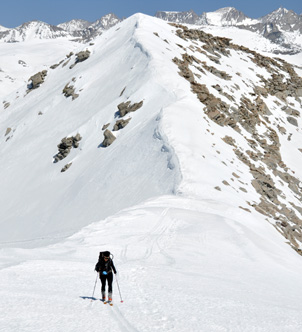 Put your skins on and leave the Pear Lake Hut (
WA01 Hut
) towards the Pear Lake. Cross the stream at a safe place (
WA02 Xstream
), zigzag your way up leaving the Matterhorn to your right and cross to the other side of the pass. At mile 0.9, you'll go down a small stretch (
WA03 Down
). Keep climbing steadily on the NE side of the ridge until mile 1.4 where you traverse left (
WA04 TurnLeft
). The steep climb to the ridge starts at mile 1.7 (
WA05 ClimbStart
). You'll get to the ridge at mile 1.8 (
WA06 Ridge
) and to the summit at mile 1.9 (
WA07 WinterAltaPeak
).
Enjoy the vistas and plan your descent. There are lots of options here. We didn't just track back. Instead, we took a wider loop but without dropping to the Marble Fork Kaweah River to avoid having to put the skins on. We skied down the same West face of the Matterhorn we climbed up and got to the hut at mile 3.6.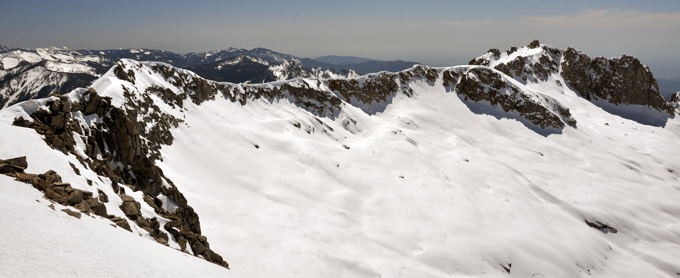 Profile for Winter's Alta Peak.
Go to top
© 2014 Explore Pangea. All Rights Reserved. Website
Terms of Use.